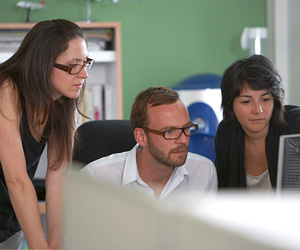 Generation Y, also known as the Millennial generation, are people born between the years of 1982 and 2000. This generation of workers operates under a much different life plan and moral code than their predecessors, the Baby Boomers. They're even different from Generation X, who are currently in their prime working years. These proven strategies will help you to effectively recruit, hire and retain the best of Generation Y.

Recruiting Generation Y to Your Organization
If there is anything Generation Y is known for, it is walking to the beat of their own drummers. To find the best and brightest of Generation Y, you may need to recruit outside the "ivory tower" and look to places such as community organizations, international volunteer programs and other places where members of this generation are spending time before and after their college years.
Hiring with Purpose
During the hiring process, prepare your human resources staff for an onslaught of questions from the applicants. They will want to know their purpose in your organization and how they will fit into the culture. You'll need to offer clear-cut explanations for not just their specific job duties, but how their work will make an impact on the world around them.
Fostering Growth and Opportunities
Members of Generation Y are committed to lifelong learning and want to be challenged in what they do. Your organization can retain these highly motivated employees by offering continuing educational opportunities as well as work-related perks such as tuition reimbursement, on-site workshops and partnerships with community organizations who can benefit from their expertise while teaching them additional skills such as creative thinking and resourcefulness.
Offer Flexibility and Alternative Reward Systems
In order to be able to maintain their outside interests, volunteer activities and continuing education, members of Generation Y want a workplace that offers flexibility. Alternative work hours other than the typical 9 to 5 business hours are key to helping members of this generation stay with your organization. Telecommuting is another option to retain these tech-savvy staff members. Also consider alternative reward systems such as more vacation time rather than bonuses.