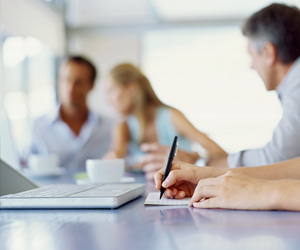 When you have dependable employees who already fit in well with the corporate culture of your organization, on-the-job training can help you to retain them when they wish to advance into new roles. On-the-job training benefits the employee as well as your organization by saving you money and expanding the employee's skills – according to a survey of almost 4,300 workers by Sh!ft, 74% felt that they weren't achieving their full potential at work [1]. Consider these ways in which on-the-job training helps to boost retention of your most valuable workers.
Increased Retention of Information
When you provide on-the-job training in an environment where the employee already works, the employee is more likely to retain the information. During the training process, employees will see how the new skills and knowledge fit into what needs to be done in their existing job or in a future role that they wish to fulfill. Your employees will even have the chance to practice their newfound skills in the work environment, which further increases their retention of the information.
Direct Application to Job Functions
On-the-job training ensures that your employees learn skills with direct applications. Instead of studying abstract concepts in a classroom that seem far removed from the actual job, your employees will see how the knowledge and skills can be put to use to enhance their productivity, efficiency, or effectiveness. According to this workforce research, your staff members may even find that they enjoy both the training and their jobs more as they progress through the training process [2]. When a person enjoys his or her job, he or she is more likely to stay with the organization.
Enhanced Feedback
One of the biggest complaints of workers is that they do not receive detailed, frequent, or useful feedback from their managers. According to PwC, nearly 60% of survey respondents reported that they would like feedback on a daily or weekly basis—a number that increased to 72% for employees under age 30 [3]. Having both positive and constructive feedback encourages your employees to continue doing a great job and lets them know what needs to be improved. On-the-job training boosts employee retention by providing enhanced feedback. Throughout the training process, your employees will receive immediate feedback about their understanding and application of what they are learning.
[1] http://info.shiftelearning.com/blog/statistics-on-corporate-training-and-what-they-mean-for-your-companys-future
[2] http://jobs.lovetoknow.com/Benefits_of_on_the_Job_Training
[3] https://business.linkedin.com/talent-solutions/blog/trends-and-research/2016/5-Employee-Feedback-Stats-That-You-Need-to-See