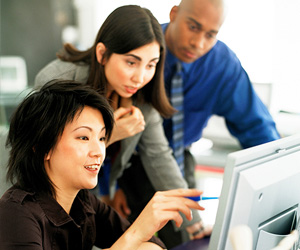 Offering a platform of just 140 characters, Twitter may not seem like the most helpful tool for recruitment. However, it can be an effective way to find top candidates. These tips detail some of the top ways to recruit candidates through Twitter.
Ask for a Retweet
One of the keys to successfully using Twitter as a recruitment tool is to request an RT, or retweet. Asking an already large audience of followers to retweet a post about a job opportunity can significantly increase the pool of candidates. Says recruitment expert Tom Gimbel in Entrepreneur, "When asked, most people are willing to retweet, and you can easily leverage your network and get your message spread. [1]"
Include a Shortened URL
Tweets are limited to 140 characters, so don't waste precious letters spelling out a long URL for a job application site. Instead, shorten the URL through a site like Bitly, which will give recruiters more space to craft a succinct explanation of the job or a call to action.
Use Appropriate Hashtags
Many candidates in search of specific jobs will use hashtags on Twitter. Recruiting tweets should include specific hashtags as well as more general job-seeking terms. According to an article in Inc., key general hashtags might include #recruiting, #hiring or #staffing [2]. For specific career opportunities, also include hashtags for skills needed, like #Germanspeakers or #programmers.
Tag Major Recruitment Twitter Users

Small businesses that don't have a large existing group of Twitter followers may want to tweet job openings to major recruitment players on Twitter. These social media recruitment platforms, such as TweetMyJob, can help those searching for employees reach a wider audience [3].
Time Tweets to Get the Most Views

One LinkedIn article reminds recruitment professionals that the timing of Tweets can play a big role in how many views each will receive [4]. Using tools like CrowdBooster can ensure that each Tweet gets maximum visibility in the preferred time zone.
Twitter can be a way to recruit professionals in virtually any industry, and these tips ensure that recruiters can effectively find top candidates through this social media platform.
[1] http://www.entrepreneur.com/article/226960
[2] http://www.inc.com/guides/2010/05/using-twitter-for-recruiting.html
[3] http://www.huffingtonpost.com/2morrowknight/tweetmyjobs-and-social-re_1_b_1371164.html
[4] https://www.linkedin.com/pulse/20140403173251-2061783-why-twitter-is-a-recruiter-s-secret-weapon-and-how-to-use-it