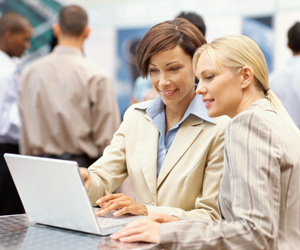 Those born in roughly the 1980s and 1990s are defined as millennials, and a recent article in Time highlighted that these millennials are now officially the largest generation within the working class [1]. Recruiters need to know how to attract and retain the top talent in the millennial generation, and social media may be the key. Discover which social media platforms are most effective when it comes to recruiting millennials.
LinkedIn
Currently, LinkedIn occupies a 40 percent market share for those seeking jobs in the United States. While it may only have 300 million users annually [2], far less than other social media platforms, it may still be the best place to start when seeking millennials because existing users are focused on their careers. Recruiters in search of millennial talent should be prepared to hunt for suitable candidates as well as post job opportunities.
Facebook
Without question, the largest social media network on the planet is Facebook, with more than 1.49 billion users, many of them daily viewers [3]. Of that staggering number of users, approximately 42 million are between the ages of 18 and 24, and an additional 44 million are between the ages of 25 and 34. In terms of sheer reach, particularly when companies are recruiting a highly specific candidate, Facebook can offer the greatest potential to get as many eyes on your career opportunity as possible.
Instagram
When Instagram recently surpassed 300 million users worldwide [4], surpassing Twitter in the process, it highlighted how a younger generation prefers to use social media. Quick, to the point and highly visual, Instagram is a fantastic way to attract millennials [5]. Instagram can be used to create a corporate culture that appeals to millennials, and it can also be searched through hashtags to find specific users who may make ideal candidates.
Twitter
Thanks in part to the mobile nature of Twitter, more than 100 million users log in daily. However, the demographic is far younger, overall, than Facebook, with 95 million Twitter users under the age of 29 [6]. For recruiters targeting a demographic of millennials, Twitter can be an effective method of reaching the right audience.
[1] http://time.com/3854518/millennials-labor-force/
[2] http://mashable.com/2014/04/18/linkedin-300-million-users/#tmgMHMvoaZk9
[3] http://newsroom.fb.com/company-info/
[4] http://techcrunch.com/2014/12/10/not-a-fad/
[5] http://www.inc.com/jt-odonnell/a-powerful-way-to-use-instagram-to-recruit-employees.html
[6] https://www.linkedin.com/pulse/20141118182103-28964915-social-media-user-statistics-age-demographics-for-2014