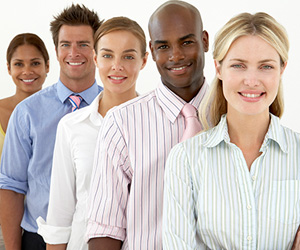 Successful organizations include Human Resources as part of their strategic planning team. HR, as a partner in the company's plan, can execute recruiting and employee retention plans, develop timelines and assist in budgeting for new hires. Ensuring that the talent pipeline contains an adequate number of qualified candidates requires workforce planning.
Identify Critical Skills

Identify critical jobs – jobs that must be performed well for the company to succeed. These positions often reside in the conduct of everyday business rather than in upper management. They could be new positions and skills based on future company initiatives. Companies need to identify, attract and develop candidates for the critical skills pipeline.
Assess Talent Pools
Now that you've identified current and future skills requirements, take inventory of what you already have. Once you've identified the critical skills the company needs, create a profile of the ideal employee for that position and take a look at current employees that could fill critical roles and those who should be included in the critical talent pipeline. Use the profile to identify external candidates as well.

Perform a Gap Analysis
When HR is part of the strategic planning team, they become aware of future plans to upgrade a computer system or to open new warehouses. Many of the initiatives mentioned as part of a five-year plan will require specific talent and staffing requirements. The qualifications and number of positions required to support future business development and the current expertise will expose the gap in staffing.
Track Development of Internal Employees with Critical Skills
Those candidates that fit the profile for specific critical skills should be offered development in order to reduce the chance of turnover and to make them more valuable to the company. Regular assessments can provide an indicator of critical skills development.

Create an External Critical Skills Candidate Pipeline
External candidates with the required skills and competencies should be viewed as potential hires for critical roles. The staffing challenges that come with new technology or economic fluctuations can be successfully managed with a well-tended talent pipeline.