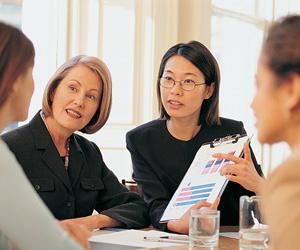 The findings of a survey from the Harvard Business Review show that 65 percent of employees feel more engaged with their company when their performance reviews are aligned with corporate goals [1]. Achieving employee engagement is key when it comes to employee retention, so unlocking the potential of the performance review is important. However, it turns out that an annual performance review can both hurt and help employee retention rates in a variety of ways.
Annual Reviews Might Not Be Enough
Annual reviews, in and of themselves, can be a positive thing and a great way to engage employees, offer credit where it is due and ensure that both employee and manager are on the same page. Margaret Jacoby, writing for the Huffington Post, believes that relevant feedback needs to be offered throughout the year [2]. More opportunities for open communication can ensure employees are satisfied and willing to stay on in the company.
Winging an Annual Performance Review
Whether an employee performance review is an annual event or something that takes place quarterly, it is perhaps the only chance for a mid- or entry-level employee to have a frank discussion about pay, job title and expected duties. When the reviewer goes into the meeting without adequate preparation, it can be a slap in the face to employees who have worked hard for recognition. Worst of all, according to Forbes, is simply offering the same advice or review as the year before [3].
Providing Detailed Feedback
When offered in a timely fashion and combined with quarterly appraisals to keep employees on the right track, an annual performance review can go a long way in promoting staff satisfaction, which in turn leads to higher retention rates for a business [4]. One way to provide a satisfactory annual performance review is to offer detailed feedback. The manager providing the review should do their homework, offer praise in the areas required and speak candidly with employees.
A thoughtful quarterly or annual review can be a tremendous tool for managers interested in increasing employee retention rates. However, reviews that are poorly done, delayed or not accompanied by year-round feedback could actually reduce employee engagement and satisfaction.
[1] https://hbr.org/resources/pdfs/comm/achievers/hbr_achievers_report_sep13.pdf
[2] http://www.huffingtonpost.com/margaret-jacoby/the-worst-advice-ever-hea_b_7444356.html
[3] http://www.forbes.com/sites/ericjackson/2012/01/09/ten-reasons-performance-reviews-are-done-terribly/
[4] http://www.businessweek.com/managing/content/jan2011/ca20110114_156455.htm