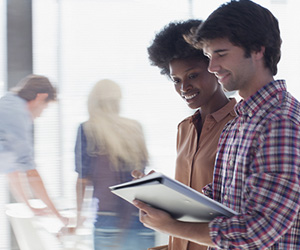 An open job position means that it's only a matter of time before the resumes start flooding in. Sorting through and eliminating the candidates who aren't the best fit can be quite the undertaking.
Here are eight roadblocks that hinder employers from finding qualified job candidates.
Technology: Many big brand employers rely on tracking systems to lend a hand in the job search. Resumes are scanned for keywords, and in turn, the employer is able to quickly find candidates who meet the specifications. However, this process allows many qualified candidates to fall through the cracks.
Poor Branding: The strength of your employer brand can directly link to recruiting top talent. A poor employer brand can significantly cut your talent pool in half because many people won't want to work for a company with negative perceptions.
Cultural Fit: While hiring people that fit in the company culture is great, it should not be the deciding factor. Attitude and aptitude are not synonymous. Employers should assess the candidate's ability to do the job first, and later analyze whether they would be a good cultural fit in the company.
Vague Job Description: It is important to be as detailed as possible when writing a job description. If a candidate is unsure of what the job entails, he may not apply for the position. On the other end of the spectrum, you may get resumes from a number of under-qualified people.
Years of Experience: Employers often jump the gun and hire people with the most years of experience. Years of experience does not always equate the most qualified candidate.
Passive Candidates: These candidates are sometimes difficult to reach because they are already employed and are not actively looking for employment. However, if the right opportunity presents itself, it is very possible to recruit a passive candidate.
Recruitment Competition: With the job market continuously growing, employers may have to compete with other companies in order to recruit top talent. This doesn't necessarily mean you have to offer a higher compensation or benefits package, but if you want the best, you may have to work for it.
Overly Specific Keyword Searches: Don't make it difficult on yourself to find potential job candidates. Being too specific for keyword searches may lessen your talent pool.
The truth is qualified candidates are out there actively searching in the job market. It is your responsibility to evaluate your recruiting process and revamp it or make the necessary changes if needed.