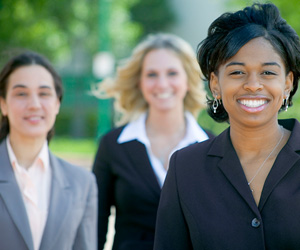 Telecommuting began to rise in popularity within the past decade when fuel prices soared. While it immediately benefited employees who would no longer have to spend hundreds of dollars per month to fill their gas tanks, human resources managers also began to notice benefits. Telecommuting is a growing trend – about 40% of U.S. employees are working remotely either full time or part time [1]. If you are considering implementing a telecommuting policy at your organization, keep these pros in mind when making your decisions and setting up the rules of your telecommuting program.
Efficiency
Employees who work from home may be able to start their workdays earlier and end later than they would if they had to commute. They may also experience fewer distractions, such as conversations at the water cooler or disruptions from coworkers chatting rather than working. On the other hand, employees who work at home may become distracted by household chores, the doorbell, television, and spouses or children who are also at home.

Equipment Savings

When employees work from home, your organization may be able to cut on some costs, such as utilities, office supplies and furniture. A typical business could potentially save up to $11,000 per employee per year [2]. When telecommuting employees do come into the office, they may be able to use shared work areas. This might even allow your organization to be housed in a smaller space. Keep in mind that you may have to reimburse your employees for their work-related internet fees, pay phone bills for work calls and provide them with a laptop so that they can do their work from home.

Employee Loyalty and Retaining Staff

The flexibility of being able to telecommute may help to increase the loyalty of your employees. Employees who have young children may appreciate the ability to work from home on days when their childcare center is closed or when their child is sick. You may be able to retain your staff by offering the option of telecommuting one or more days per week. Your employees are sure to enjoy the time savings and experience less stress from not having to drive in weekday rush-hour traffic. The savings on gas and wear and tear on cars also benefits your staff, who may decide to stay with you for these benefits.
[1] http://www.forbes.com/sites/mikekappel/2016/07/27/for-employee-retention-theres-no-place-like-home/#48ca551855ec
[2] http://globalworkplaceanalytics.com/telecommuting-statistics