Beyond the Individual: Hiring Practices for Building
Better Teams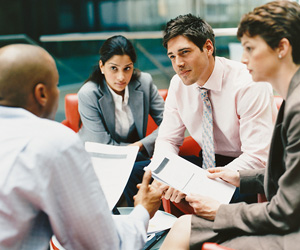 When a new employee comes into your organization, he or she will interact with a variety of current staff members. These daily interactions may be minimal for people who work on different projects, but employees who come together to do projects will need to get along so that work can be done efficiently and meet the goals of the project. Your hiring practices need to account for building better teams even as your staff is in flux.
What Makes a Good Team?
One consideration to keep in mind is that what works for one team may not work for another. Teams and projects are dynamic as are the people who are a part of them. When hiring individuals, consider the roles they might play on different teams within your organization. If you know that a new hire will spend 75 percent of his or her time working on a particular team, you will need to craft particular goals and ensure that personalities match during the hiring process, explains Kermit Burley, writing for the Houston Chronicle[1].
Team Players vs. Go-Getters
Team players understand that what they are doing is for the benefit of the entire organization. On the other hand, go-getters are more interested in how their efforts will pay off for themselves at some time in the future, according to Susan Heathfield's article on About.com[2]. During the hiring process, human resources staff and managers must explain the expectations for team involvement and explain how there are benefits to both the individual and the organization to working as a part of a team. Setting clear expectations during the hiring process helps to get the newly hired staff on board with the plan.
Hiring the Right Members for Your Team
Another important part of hiring the right members for your team is making sure that employees understand the importance of teamwork in the context of the organization. Explain how the team's project aligns with the organization's mission, vision and goals. Explore with the candidate how his or her personal goals mesh with all of that. An employee who is committed to helping an organization be successful will be happier.
[1] http://smallbusiness.chron.com/build-strong-teamwork-20768.html
[2] http://humanresources.about.com/od/involvementteams/a/twelve_tip_team.htm