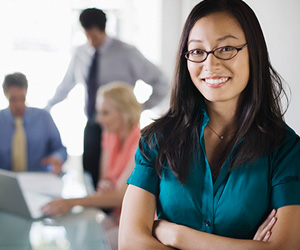 When your organization could use a boost in morale and productivity, one way to do so is to redefine your brand mission. Every brand should have a mission, vision and goals. While these are typically developed at the same time as the product or near its release, you can redefine them at any time. Redefining your brand mission takes a team effort, but the results are well worth it in the end.
Defining Your Brand's Mission
According to this article, it is easier to redefine your brand's mission once your vision and goals are clear and established [1]. Your brand's mission is the how-to guide for advancing your goals and vision. The best time to redefine your brand's mission is when there is only slow or halting progress toward your overall goals. Low morale and poor productivity are often symptoms of slow goal achievement. A better how-to guide can inspire your staff to get working again toward your organization's goals.
Including the Four Key Components
Your brand's redefined mission should be able to inspire your staff and encourage them to make positive progress toward organizational goals. The mission statement must also be reasonable and plausible as a "smart" objective. Dave Smith from Inc.com explains that there are four key components to your brand's redefined mission statement [2]. These components include value, inspiration, plausibility and specificity. Each of these ideas should revolve around your brand's key theme.
Creating a Clearly Redefined Brand Mission
A redefined mission statement should ideally be a single sentence that every member of your staff can learn by heart. In the best of all worlds, you company's mission statement could double as the product's slogan. The statement should be memorable and effective, leading back to your roots as to why you developed the brand in the first place. If you choose a short-term mission statement, redefining it will need to be a regular part of your work. This is because the improved morale and productivity will allow you to achieve the goals as stated in the mission. A long-term mission statement will need to use language that allows for organizational growth.
[1] http://www.sustainablebrands.com/news_and_views/brand_innovation/amon_rappaport/how_define_%E2%80%93_align_%E2%80%93_your_brands_purpose_vision_missi
[2] http://www.inc.com/ss/5-tips-on-developing-an-effective-mission-statement