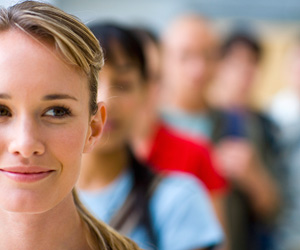 When employees come to work on time every day, stay until the work is completed and do the job well, they deserve more than just a paycheck. Recognizing an employee's contributions to the workplace plays a considerable role in retaining the best members of your staff. The cost of losing an employee is about one to two times his or her annual salary [1]. Consider these ways in which retaining employees through recognition and rewards is good for your bottom line and your corporate culture.
Motivation
Earning a reward, even something as simple as an "Employee of the Month" mug or a sticker for the employee's ID card, motivates that person to continue performing at a high standard. When an employee is given a reward that is tangible and visible, other members of your workplace will see the reward. These awards could be given out monthly, quarterly or annually. This regular issuing of rewards could motivate additional members of your staff to up their performance levels in hopes of earning their own recognition.
Acknowledgement
While a private "good job" on an employee evaluation is helpful, sometimes a public acknowledgement of exemplary work is even more important and empowering to your employees. You do not have to go overboard or make a big deal, which could cause workplace resentment, but it is important to make a public acknowledgement about the contributions of employees when they go above and beyond your expectations. A moment at a monthly staff meeting for acknowledging and recognizing superior performance shows your staff that their work has not gone unnoticed.
Retention
Employees who are rewarded and recognized for their work are likely to remain in your organization. These people may become known in your workplace culture as rock stars and the go-to person for expertise and advice. Even if these well-recognized people do not become executives, they will continue to be a source of pride and inspiration for your corporation. Employees who feel valued and excited to come into work each day, anticipating recognition for their efforts, will stay at your organization for the long term.
[1] http://www.cio.com/article/2868419/careers-staffing/how-to-improve-employee-retention.html