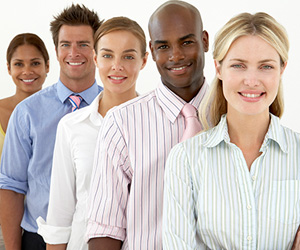 Forbes reminds businesses that strong brands aren't created exclusively in the marketing department [1]. Instead, every employee in the company contributes to its brand and image. Having employees who fulfill their contractual obligations is a far cry from employees who act as brand ambassadors even when they are off the clock. These suggestions help get employees excited about your company's brand image.
Involving Employees in Social Media Campaigns
Employees have a unique and credible position in social media. Unlike executives or owners, who the public may believe have an agenda, employees can feel like a more realistic, friendly and legitimate source of information. That's why it is so important to have employees feel free to contribute to and participate in social media campaigns. At Nokia, for example, employees are encouraged to talk about the brand on personal social media, and they have the freedom to give their honest opinions [2]. Social media expert Jenny Kuglin also suggests having staff take photos at work, during holiday parties or whenever something exciting happens involving the brand [3]. Using these photos on social media is a captivating way to show the genuine side of the brand, and it also excites the employee who took the picture.
Give Employees Product or Service Discounts and Perks
Small Business Trends pinpoints one of the key ways to generate interest in a brand: provide employees with discounts to offer friends and family [4]. This makes employees feel like an insider with valuable information, which in turn makes them more likely to speak positively about the brand. Those who receive the discount will have a better overall experience to know they got a deal, which keeps the positive momentum going.
Recognize Their Efforts
Turning employees into brand ambassadors and making them feel genuinely excited about the brand is not an easy task. When it does happen, reinforce what a great thing it is by recognizing the employee. According to Entrepreneur, this could be as simple as commemorative shirts for staff or a mention at a meeting if someone gets positive attention for the brand on social media [5].
Together, these tips can be integral in getting employees excited about your company's brand.
[1] http://www.forbes.com/sites/williamarruda/2013/10/08/three-steps-for-transforming-employees-into-brand-ambassadors/
[2] http://linkhumans.com/blog/how-nokia-employees-brand-ambassadors
[3] https://www.rivaliq.com/blog/expand-your-online-branding/
[4] http://smallbiztrends.com/2014/09/turning-employees-into-brand-champions.html