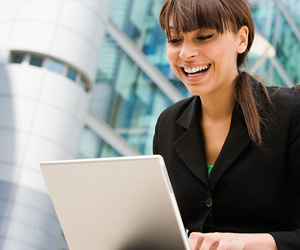 Including your employees as authors on your company blog helps to build a stronger company culture. The different voices that your employees have to offer also provide your blog with a wider perspective and range of writing styles. According to Marketeer, corporate blogs with 15 posts per month generate an average of 1,200 new leads [1]. Allowing more people to participate in blog authorship can expand your reach even more.
Offering a New Perspective
Each employee in your company offers a new perspective on what it means to be a member of the organization. Writing from the same perspective all of the time can be boring to your audience. If every blog is written by the CEO, your readers will have no way to know what the rest of the people think. Allowing different employees to author blog posts shows that you value every member of your company equally. Including various employees at different levels of your company also demonstrates that every person's voice is respected.
Exploring How Employees Joined Your Company
Companies often seem like impersonal, huge entities to the public. Including employees as authors on the company blog provides a more personal view of what happens in your company. Employees can explore their career history and how they came to be a member of your business. Each person's career takes a different path, and this sort of biography can be fascinating for your loyal customers and business partners to read. This information also shows how your employees have the skills and experience to do their jobs.
Highlighting Employee Work
While the general public and even the other workers at your company know what the CEO, CFO and COO of your company do, they might not have a good idea of what your business analysts, customer support staff or human relations coordinators do on a daily basis. Allowing your employees to write blog posts about how they contribute to your organization highlights the fact that your company would not be what it is without everyone there working together to help the entire business succeed.
[1] http://marketeer.kapost.com/corporate-blogging-stats/