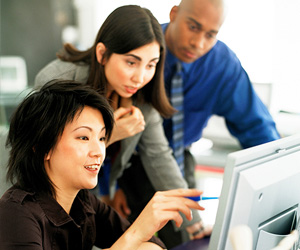 When your organization has a management position to fill, you may not have to look far to find the ideal candidate for the job. Promoting from within is an affordable solution and can also save time and resources. "By offering promotional roles to internal candidates, employers foster a sense of loyalty, engagement and long-term satisfaction by allowing growth from within [1]." While there are many great reasons to promote from within for managerial vacancies, there are also some disadvantages. Keep these pros and cons in mind if you are thinking of promoting from within your organization:
Pro: Seamless Transitions
Transitions can be a challenge when you're bringing a person into a job. The time spent bringing an outside person up to speed about your corporate culture, policies, and day-to-day operations is considerable. A current employee is already familiar with what is required for success in your organization and understands the company's goals, mission, and vision.
Pro: Proven Fit and Loyalty
An employee who has been in your organization long enough to be considered for promotion is proven to be loyal. The fact that the employee wants to stay rather than taking his or her skills elsewhere is a testament to the quality of the work environment. The employee is also known to be a good fit for your company and will likely have many strong working relationships within your organization and with your business partners and clients.
Con: Negative Emotions of Other Workers
When former coworkers see the employee moving up the ladder, these coworkers may feel jealous. Some may even become hostile and actively make the situation difficult. If more than one employee applied for the position, the candidates who did not get the job may feel disillusioned and unwilling to work with the person who was promoted. If the promoted employee will be managing his or her former coworkers, relationships could become tense and difficult.
Con: Same Skill Set
When retaining the same employee, your organization is not gaining any new skills, knowledge, or experience. If the management position requires a skill that your otherwise highly qualified employee is only moderately competent at, you could be missing out on an outside person who is well-developed in that particular area of expertise. As The Society for Human Resource Management explains, bringing in skilled external workers to meet the demands of a strategy shift or difficult corporate turnaround can be especially beneficial [2].
[1] https://www.shrm.org/resourcesandtools/tools-and-samples/toolkits/pages/recruitinginternallyandexternally.aspx
[2] http://www.careerprofiles.com/blog/hiring-innovative-talent/internal-vs-external-recruiting-knowing-when-to-search-for-outside-talent/