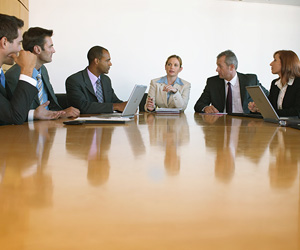 When you are interviewing qualified applicants for a position in your organization, more than one manager or human resources specialist may need to converse with the applicant. Team interviews provide an opportunity to involve everyone in your organization who wishes to participate in the interviewing process. Before you get everyone seated at the table, consider these advantages and disadvantages of conducting team interviews.
Advantage: Creates a Teamwork Atmosphere
If you want to show that a teamwork atmosphere is important in your organization, a team interview allows you to highlight this. Each person on your interview panel will be able to show how his or her department functions with the others. This will allow you to gauge how well the candidate will fit into your corporate culture. Another benefit with panel interviews, says Meisenhelter, is that by participating in the interview process, team members gain a vested interest in the hiring process and in seeing that new employees succeed [1].
Advantage: Allows for Natural, Honest Responses
During a team interview, you will be able to ask more unusual and varied questions than in a traditional interview setting. Some candidates find the situation a bit stressful, which allows you to see how they respond to stressful situations. According to the Gainesville Business Report, this may lead to a more natural and honest response from the candidate [2]. When faced with a panel of interviewers, candidates will be able to offer less-prepared answers. These answers will give you an accurate picture of the candidate's qualifications, skills, and demeanor.
Disadvantage: Takes More Coordination and Time
The managers and human resources staff will need to coordinate their questions. Even so, if each person on the panel has two questions to ask the candidate, the interviewing process could take a few hours for a single applicant. If your organization plans to interview 10 or more people, this could consume a considerable amount of your valuable time.
Disadvantage: May Overwhelm Some Candidates
Introverted candidates may feel overwhelmed during a team interview. Candidates who work well in one-on-one situations may clam up when faced with a group of people firing off questions their way. A naturally shy but highly skilled and qualified candidate may not perform or showcase his or her skills as well during a team interview when compared to an individual or paired interview.
[1] http://hiring.monster.com/hr/hr-best-practices/recruiting-hiring-advice/interviewing-candidates/panel-interviews.aspx
[2] http://gainesvillebizreport.com/pros-and-cons-of-doing-group-interviews/