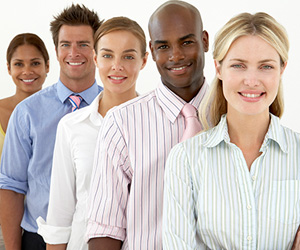 Successful organizations always keep the future in mind. As every good human resource professional knows, a leadership succession plan involves more than maintaining a list of potential replacements in the event that a vacancy should occur. Instead, a comprehensive talent development plan begins at the top. Although there are times when an external candidate is preferred, the commitment of an organization to develop future leaders is a vital part of accomplishing a strategic vision.
Strategic Leadership Development
It's the responsibility of a human resources manager to educate the leadership of an organization concerning the importance of implementing a leadership succession plan. Moreover, the internal effort to develop management talent should always keep the long-term strategic goals of the organization in view. In this regard, a robust HR department and leadership succession plan can be a CEO's best friend.
The active involvement of top executives and managers in a succession development plan is vital. Working in concert with HR personnel, existing company leaders are in the best possible position to recognize, develop and review the performance and potential of future talent. Therefore, organizational leaders and HR professionals are actually internal talent scouts.
Moving Up the Corporate Ladder
There's nothing more frustrating than working for a corporation that fails to recognize the accomplishments of high-performance employees. Losing good people because they couldn't move up the ladder is a costly mistake. A good executive or manager will work with the HR department to retain talented employees, even if it means transferring the employee to another department.
An HR department should be prepared to respond in the event that a key leader suddenly resigns or suffers a medical emergency. Every company leader should have their eye on someone that could do their job in the event that some unforeseen circumstance should occur. Outstanding executives and managers understand that preparing future leaders is an important part of their job description.
There are countless threads and ripples that work their way through the organization chart of a dynamic company. It is the responsibility of a human resources manager to design a living leadership succession plan that will enable their company to thrive well into the future.