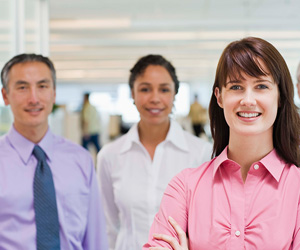 Hiring and retaining top talent is crucial to the success of any achievement-oriented organization. Corporate leaders, including HR managers and professionals, understand the staggering cost of employee turnover. Many companies are forced to endure turnover rates in excess of 60 percent every four years. Needless to say, the loss of talented executives, managers and rising stars can make it nearly impossible for a business to accomplish strategic objectives.
Career Development
Employee retention should begin even before the hiring process begins. It's important to identify the employee characteristics that best fit the organization and position in question. Extensive discussions with executives and managers, exit interviews and regular conversations with current employees can help establish a strategy for making successful hires.
Although it's true that talented employees are typically interested in furthering their career goals, it should not be assumed that compensation is the only reward they have in mind. Many talented employees move on simply because they're frustrated with management or they perceive that the company doesn't offer a realistic path for career advancement. Every HR recruiter should be aware of the career opportunities that may be available to prospective employees.
Achievement and Advancement
Talented employees are more likely to stay with a company that demonstrates an interest in their career goals. Constant communication at every level of an organization is the only way to avoid unexpected resignations. Every level of leadership should emphasize the implementation of a professional development program that includes the career objectives of future leaders. The importance of related training and development for managers and executives cannot be overemphasized.
The career goals of one talented employee may be quite different from that of another high achiever. It's vital that the leadership of a company create the conditions necessary to prompt an employee to strive for success. While one employee has a desire to occupy the office of a high-level executive, another high achiever may only be interested in high-stakes commission checks. Ambitious employees can't stand failure. It's only natural that they keep their future prospects in mind. A professional HR department does everything possible to allow talented employees to reach their highest potential.