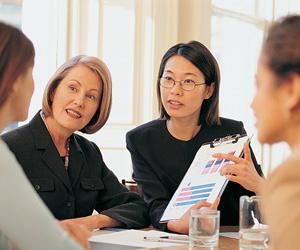 When hiring new employees, screening, evaluating and examining their background and references are essential. These practices not only help to ensure that you're hiring a high-quality staff member, but they also help to protect your organization from workers with a poor reputation, low work ethic or those who have committed a crime. Consider the following three reasons why these hiring practices are necessary before bringing new staff into your company.
Establishing the Qualifications of an Applicant
Checking the references and evaluating the claims made on an application or cover letter helps human resources staff determine whether or not a particular person is qualified to do the job that he or she has applied for. References provide insight about a person's work habits, such as whether the worker shows up on time or has frequent unexplained absences. Screening and evaluating an application is how employers are able to verify that an applicant has the degree and experience stated on the form.
Evaluation of an Applicant's Fit
Evaluating a job applicant's past positions, experience and accomplishments helps determine whether or not he or she will be a good fit for the organization. Combined with speaking to the applicant's references, a human resources professional can determine whether a job applicant has the right personality to fit into the culture of the organization. Employees who fit into the organization's culture are more likely to succeed and stay with the company.
Protection of the Company
Conducting a background check on a job applicant ensures the safety of staff and the integrity of the organization. A background check may reveal that an applicant is not suitable for a specific position. A person convicted of theft may not be appropriate to hire as a bank teller or cashier, while someone convicted of drug possession or trafficking may not be appropriate for working in a pharmacy. This type of information can only be divulged through a comprehensive background check.
Because the hiring process takes a company's time, energy and financial resources, taking these steps helps an HR department wisely manage these assets.