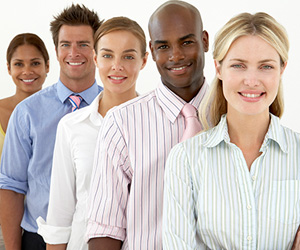 Unhappy employees make for unproductive employees, which is why it is so important to work hard to boost morale in the workplace. Businesses of any size can benefit from these tips to create a more positive, efficient and enjoyable work environment for all personnel.
Recognize Personal Moments
According to Forbes, one of the key ways to boost morale is to show employees that they are recognized and appreciated as individuals, even outside of the workplace [1]. That means remembering key dates like birthdays or anniversaries as well as commemorating special moments like weddings or the birth of a child. Gifts and cards need not be expensive, but they can show employees just how valued they are.
Invest in More Affordable Fringe Benefits
Mark Shields writing for CNN highlights the value of fringe benefits for employees. Says Shields, "Good hearted and tough minded are not mutually exclusive in labor-management relations [2]." Paying for things like employee health insurance premiums, employee parking, coffee in the break room or staff transportation is tax deductible for most businesses, but these benefits do more than just make employees happy. Boosting morale in these fringe ways can be more affordable than increasing salaries, and it can go a long way in terms of productivity and reducing turnover.
Let Managers Serve the Rest of the Staff
A great tactic for improving morale is to reverse the hierarchy in the office for a few hours. Corp! Magazine suggests having upper-level management host a pancake breakfast for staff [3]. Donning an apron and cooking pancakes in the office takes just a morning, but it can be a fun reprieve from everyday tasks and an affordable way to create a more positive environment for staff.
Incorporate Philanthropic Activities
Stepping away from corporate obligations and doing something positive for the community is a wonderful way to boost morale. As a bonus, this also improves your company's brand image. Entrepreneur suggests employees a few free hours each month to volunteer while on the clock or leaving the office as a group to volunteer locally [4].
[1]  http://www.forbes.com/sites/cherylsnappconner/2014/09/11/6-ways-to-increase-employee-morale-and-performance-without-giving-a-raise/#5031175f6997
[2] http://www.cnn.com/2005/POLITICS/09/05/treating.workers.right/
[3] https://www.corpmagazine.com/human-resources/fun-and-inexpensive-ways-to-boost-morale-during-tough-economic-times/
[4] http://www.entrepreneur.com/article/220000