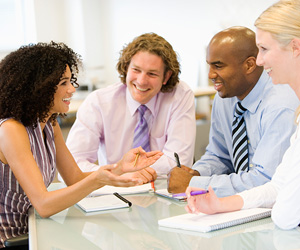 Hiring your dream employee is only half of the battle for any organization. Major companies are making a habit of poaching top talent, and to keep your best workers on your side, your work environment needs to remain a comfortable spot for your employees to be. Given that it costs an average of 150% of a mid-level employee's salary to replace them – it's important to retain your top talent [1], as it can cost your company a lot of money.
Opportunities for Growth
Feelings of stagnation are a common complaint across every industry and pay grade. Keep frustrated talent from jumping ship by creating an environment that nurtures optimism and personal pride. Give every employee access to career building, advancement and personal growth opportunities. Help them learn new skills and be open about what they need to earn the promotion or pay raise they desire.
Tailored Benefits
A bigger salary is tempting, but an after-hours car service, a better health care package or help with daycare costs can be worth more than cash. Find ways to let your employees customize their benefits or speak with each to find out what their goals are. An employee who is thinking about leaving to spend more time with their family could be persuaded to stay if they can telecommute two days a week. These seemingly small perks add up to every employee feeling valued.
Productive Communication
Open up a feedback line that goes both ways. Give detailed performance reviews, and match all criticisms with possible solutions and offers to help. Make sure your staff feels comfortable providing feedback, and seriously consider implementing changes based on that feedback. Employees are in a unique position to spot inefficiencies in company workings. Those inefficiencies will cost you money and employees, especially if the people trying to draw attention to problems get frustrated with being ignored.
It may seem obvious, but remember to think of your employees as people. They have goals, wants and needs, and if you take the time to understand them, you can build a work environment that no one will want to leave.
[1] http://www.eremedia.com/tlnt/what-was-leadership-thinking-the-shockingly-high-cost-of-employee-turnover/