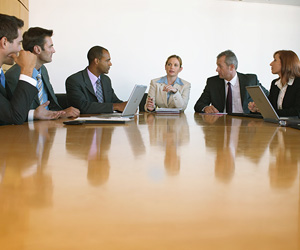 As the Millennial generation enters the workplace in numbers large enough to overtake the Baby Boom generation, there can be a communications chasm between the two groups. Millennials have grown up with in-hand technology, including smartphones and tablets. The Baby Boom generation has had to actively embrace these tools, especially when it comes to using them in the workplace. Forging that communications gap can be done by getting the members of the two generations together in a variety of situations. The Baby Boomers can learn tech speak from Millennials using these three strategies.
Exploit Similarities
One way to get Baby Boomers to start using tech speak is to explore the similarities between talking about tech and talking about any other specialized field of knowledge. Every industry has its own lingo. Take advantage of the similarities by engaging Baby Boomers with Millennials in familiar situations. What used to be a "conference call" may now be referred to as "Skyping," for example. Moving about on a website used to be called "tabbing" or "paging" but now is just "scrolling."
Mentoring Programs
Mentoring programs are a great way to get people of different experience levels working together. A member of the Baby Boom generation can be paired with a Millennial for practice opportunities to learn about tech speak. Millennials will benefit from the increased face-to-face interactions as much of their world revolves around digital communications. These mentoring programs do not only have to be among coworkers but can also include college and even high school interns who come into your organization for short periods of time.
Teamwork
Effective engagement can also take place through teamwork. Placing members of different generations into the same working teams in your organization can help everyone to learn each other's styles of communication. While Millennials often see communication as a way to convey bits of information, the Baby Boom generation may see communications as a way to get to know another person. These ideas can be meshed by having people interact in a variety of ways in the workplace. Seeing a project through from start to finish enhances communication.