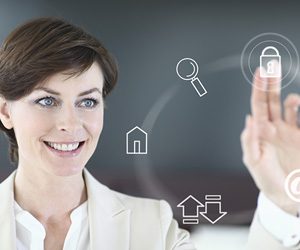 Your human capital investment effort will benefit from a comprehensive CRM solution to acquire and track talent and manage employees from recruitment to retirement. Ensure your CRM software is up to the task by determining if it offers these six key features:
Equally Capable Web and Desktop Interfaces
HR staff should see the same CRM functionality and interface regardless of whether they are telecommuting or sitting at their desk. Interface differences require additional training and increase the risk of miscommunication. Be sure the software addresses the additional security risks of online access.
Social Network Integration
Social job websites such as LinkedIn and Monster provide an indispensable reservoir of applicants. Your CRM software must integrate with such services to assist recruiters searching for talent and applicants seeking new positions. It must interface with Twitter, Facebook, Pinterest and other prominent social networking sites to increase visibility for job openings.
Open Resume Acquisition and Management
Recruiting efforts are tarnished if your CRM solution cannot absorb applicant resumes in a variety of document formats, including Word, PDF, Rich Text or mark-up languages. The resumes must be converted to a consistent format internally and indexed for keyword access.
Communication and Collaboration Tools
Your CRM package must account for the fact that talent management is a team effort. Clients, agencies and managers need visibility throughout the hiring process and the employment lifecycle. This communication is enhanced if your CRM software provides relevant and customizable templates.
Useful Analytics and Reporting
Insight into your talent management efforts will be murky at best if CRM reports are limited or are unable to be customized to present data in a meaningful fashion. The software must provide analytical tools and guidance to extract the most value from HR's database.
Weigh Flexibility vs. Complexity
Find CRM software that is complete but expandable as business needs grow. Beware of CRM packages with basic functionality that requires additional, expensive components to be useful. If a vendor stresses that any missing features are possible with customization, remember that the other side of flexibility is complexity.