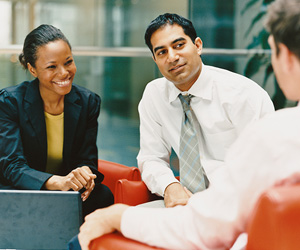 Are you looking to sharpen your talent-hunting skills? To stay competitive in today's market, keep up with how technology affects candidate job hunts and widen your search umbrella to as many corners as you can. Take your cues from big brand HR and diversify your hiring techniques with the biggest industry trends.
Going Mobile
A 2014 survey by LinkedIn found that 72 percent of working professionals visited a company's career page using a mobile device [1]. Whether you utilize apps or a mobile-optimized website, mobile has become essential for keeping tabs on the talent pool.
Adding Analytics to Your Toolkit
Choosing from a pool of candidates can be a challenge, but big data analytics can help alleviate some of the burden. By scrutinizing trends, successes and failures, analytics provides guiding insights into your team-building decisions. One Accenture survey found that business reliance on analytics has tripled since 2009 [2].
Aggressive Sourcing and Branding
Experts agree that aggressive sourcing is becoming a driving force in recruiting. Reaching out to "passive" talent is as important as seeking active candidates. In turn, strong branding and company culture is essential for luring talent away from its source. As Susan Strayer LaMotte, founder of branding consulting firm Exaqueo, told Monster, "You have to focus on what's yours — what makes your company great that's different from everyone else [3]."
The Power of the Blog
Facebook, LinkedIn and Twitter are merely the basics of social media recruiting. Young talent appreciates the authenticity of an employee-run blog, the creativity of a well-composed YouTube video and the wit of Tumblr posts. Create your own content to promote via social media and harvest talent from intrigued followers.
Anticipatory Hires
Widespread technology is forcing companies to evolve faster than ever. Hiring for today's goals alone will leave you with an outdated team tomorrow. Corporations are taking stock of what lies ahead and grabbing up specialized talent before smaller businesses know they need it.
Big corporations recognize the success of startups and small businesses in today's market. While they rush to stay ahead, take your cues from their techniques and you will come out on top.
[1] http://talent.linkedin.com/blog/index.php/2014/02/mobile-recruiting-statistics-infographic
[2] http://www.accenture.com/us-en/landing-pages/analytics-in-action/Pages/home.aspx#Infographic
[3] http://www.monster.com/blog/b/small-business-attract-talent-1-brand-0709