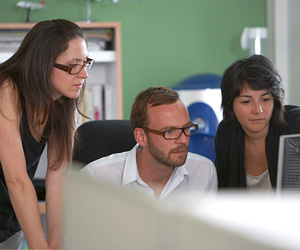 In order to attract top-tier candidates for key employment positions, a comprehensive benefits package is integral. However, Millennial candidates may require benefits that are far different from their Baby Boomer counterparts. By understanding what benefits appeal most to the Millennial generation, businesses can put together attractive packages designed to bring in the best talent.
Flexible Hours
In decades past, employees wanted a better work-life balance. Today, it is more about work and life integration, something made possible through flexible hours. Kate Taylor of Forbes writes, "45 percent of Millennials will choose workplace flexibility over pay [1]." Many Millennials would rather take control over their work schedules than be required to clock in and out at the same time each day.
Cash Bonuses
An extensive report by Kleiner Perkins Caufield & Byers reveals that on a global scale, one of the most important benefits to Millennials in the workplace is a cash bonus [2]. Increasingly, Millennials have very little in terms of emergency savings, so a cash bonus can be an important benefit. MarketWatch highlights that up to 34 percent of millennials don't have any money in their savings accounts at all, indicating a preference or necessity to live monthly or weekly from their checking accounts [3]. Therefore, a cash bonus can provide much-needed financial stability to Millennials.
Ongoing Training and Development
According to Business.com, one of the most attractive benefits for Millennials is ongoing training and development [4]. Many Millennials are not content to simply secure a position; they also want to excel, learn more and be mentored by their superiors. By offering training programs in new areas of the industry or in developing technologies, your business might become more attractive to Millennial candidates.
Flexibility, personal advancement and cold-hard cash come in as three of the top benefits desired by Millennials. This may come as a surprise to HR managers and recruiters who are used to emphasizing health plans and pensions to an older generation of potential hires.
[1] http://www.forbes.com/sites/katetaylor/2013/08/23/why-millennials-are-ending-the-9-to-5/#6c7365733d75
[2] http://www.kpcb.com/internet-trends
[3] http://www.marketwatch.com/story/most-americans-have-less-than-1000-in-savings-2015-10-06
[4] http://www.business.com/company-culture/how-are-companies-changing-their-culture-to-attract-and-retain-millennials/