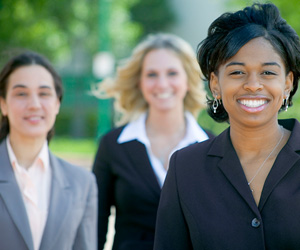 The sit-down meeting may be a basic part of how your organization gets things done, but consider whether it really improves your organization's productivity. The human body does some of its best thinking when moving. Researchers at Stanford University found that the creative output of people increases by an average of 60 percent when they are walking [1]. Consider these benefits of having walking meetings outside of the office.
Fewer Interruptions
During walking meetings, employees are less tempted to whip out their smartphones and catch up on the day's news or posts from their social media feeds. Outdoor meetings also have fewer interruptions of uninvited guests walking into the meeting room. You may be able to get more done in less time by having a walking meeting.
Better Communication
Walking outside breaks down the barriers between management and employees. Your employees may be able to get their points across more succinctly and quickly than if they were sitting down across a big table from you. While outdoors, people become more relaxed and in tune with their surroundings, making it easier to say what they are thinking and feeling. Jeff Weiner, the CEO of LinkedIn, discovered that with walking meetings, the conversations are more candid—possibly because the two people aren't making direct eye contact—with minimized distractions [2].
Improved Energy
Many office workers experience the 2:00 p.m. slump. This low-energy time of the day lends itself to poor focus and concentration. Taking your meeting outside of the office and having everyone walk around is an invigorating experience. The fresh air, sunshine and gentle breeze renew everyone's energy and restore the ability to focus.
Healthier Bodies
Sitting for six hours per day during the workday has been found to increase cholesterol levels, blood sugar and blood pressure. Getting your staff outside and having walking meetings helps add some physical activity to their days. More active employees are healthier and may experience fewer illnesses.
New Ideas
The outdoor environment is always changing. From the leaves on the trees to the birds in the air, no two outdoor meetings will be the same. As your staff engages during walking meetings, the changing scenery may also inspire new ideas and more creative thinking. Your organization can benefit from the increased creativity and the new solutions that such creativity can bring into the workplace.
[1] http://www.inc.com/peter-economy/7-powerful-reasons-to-take-your-next-meeting-for-a-walk.html
[2] http://www.business.com/company-culture/walking-meetings-are-your-new-creativity-booster/